To view in a printer friendly window click here!

Curriculum Vitae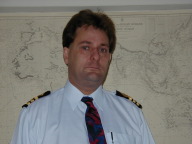 Thomas Wärmling
Born in Sweden 1961-08-20
ADDRESS:
E-Mail thomas@warmling.com
EMPLOYMENT HISTORY:
After completion of my education, I was working on a chemical vessel as a Second Officer for a brief period and was later employed by Safe Offshore, Gothenburg, Sweden, and worked on their Platforms 1988-1990 as a Safety/Second Officer.
In May 1990 I started to work at Nordic Oriental Ship Management, Skärhamn, Sweden. I worked for six months as a Second Officer on Winter Wave before I was promoted to Chief Officer in 1991 and have since then held that position on the Winter ship and present employment. For the past thirty years I have been working with mixed crew (Philippines, Burmese Singaporean and Malays).
When the Winter vessels were sold in early 2000 I was transferred to Tyrusland, which was a Ro-Ro vessel.
In May 2000 I got an opportunity to work for Wallenius Lines onboard Tristan, which is a PCTC (Pure Car Truck carrier). This was only a temporary contract as a reliever.
As of May, 2001 I am employed by Wallenius Marine AB.
EDUCATION:

CERTIFICATES:
MISCELLANEOUS:
I have been based in Bangkok while working for Seapartner AB and Nordic Oriental Ship management. I am fluent in Swedish, English and Thai. I have basic knowledge in Spanish. I have very good knowledge of computer systems and common applications.
I was studying at Walen School, Bangkok, 2010-11, in order to broaden my career development.
It would be very interesting to work with shipping in the South East Asian region and in particular Thailand, in a suitable position.

LEISURE:
I am an active scuba diver, holding a professional Dive Master License. Preferably I am diving in the warm waters around Thailand, Malaysia Indonesia and Philippines.
I have over 1,500 logged dives.
Please see my photo gallery http://warmling.com/dive.html.

FORMER EMPLOYER:
Sea Partner AB
Exportgatan 47
422 46 Hisingsbacka
Sweden
Phone +4631 742 4600
Fax +4631 742 4604
E-Mail louise.langley@seapartner.com
PRESENT EMPLOYER:
Arvid Lindholm
Human Resources Manager
Wallenius Marine AB
PO Box 17086, 104 62 Stockholm
Sweden
Phone: +46-8-772 05 15, +46-70-7720515
Fax: +46-8-6401982
E-Mail: Arvid.Lindholm@walleniusmarine.com
Webb: www.walleniusmarine.com
©2022 Thomas Wärmling
All rights reserved.